IRS VITA Grant Program
Mission: The Volunteer Income Tax Assistance (VITA) grant program is an IRS initiative designed to support FREE tax preparation for low- and moderate-income individuals and families, persons with disabilities, the elderly and limited English speakers. Most low-income families can't afford to pay a professional tax preparer, on average, $270 to get their taxes done. Families in this situation choose to complete their own taxes (often missing larger tax refunds) or choose not to file. FREE tax preparation provided by IRS-certified volunteers offers a better solution.
The Alabama Asset Building Coalition has partnered with the IRS and 11 agencies across the state of Alabama to provide this FREE basic tax preparation service. Through this valued partnership, we provide special emphasis on ensuring important tax credits such as Earned Income Tax Credit, Child Tax Credit and Education Credits are received by every eligible person.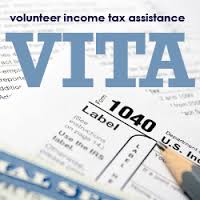 ---
---
AABC VITA SITES
Please click on the name of your preferred county for more information
Baldwin County
South Alabama Community Action Agency
26440 Pollard Road
Daphne, AL 36526
251.626.2646
Coffee / Dale County
Coffee County Family Services – Enterprise
300 Mildred Street
Enterprise, AL 36330
334.393.8538
Education and Work Opportunity Coalition
P.O. Box 311326
Enterprise, AL 36331
334.566.0985
Houston County
Columbia Baptist Association
1308 Ross Clark Circle
Dothan, AL 36303
334.794.6281
Jefferson County
Holy Family – Social Justice
1910 19th Street
Birmingham, AL 35218
205.531.4455
West End Community VITA
2411 Avenue H
Birmingham, AL 35218
205.788.6103
Association for the Improvement of Minorities (AIM)
5 Points West Library
4812 Avenue West
Birmingham, AL 35208
205.447.0304
Macon County
Tuskegee-Macon County Community Development Corporation
608 Dibble Street
Tuskegee, AL 36083
334.725.8496
Madison County
Life, Incorporated
1403 Yukon Street
Huntsville, AL 35815
256.520.8392
Mobile County
Boat People SOS
13835 South Wintzell Avenue
Bayou La Batre, AL 36509
251.517.3011
Mobile Community Action Agency
461 Donald Avenue
Mobile, AL 36617
251.457.5700
Pike County
Southeast Alabama Extension
306 South Three Notch Street
Troy, AL 36081